TMS understands what it takes to keep your vacuum production lines going. Efficient vacuum includes using TMS blended vacuum oil made for customers' operational specifications and demands:
Long life oil
Low vapor pressure
Outstanding wear & corrosion protection
Maintaining system efficiency
And, proper oil and lubricant products are critical to successful preventative maintenance and profitable plant performance.
TMS Vacuum Pump Oil is formulated from highly refined mineral oils, selected for their premium performance. This provides low vapor pressure and effective lubrication required for high performing rotary vacuum pumps.
TMS' Food Grade Vacuum Pump Oil is 100% synthetic and is formulated to provide superior protection and longer service life for air compressors, vacuum pumps and hydraulic systems requiring low operating temperatures.
Please call your TMS support team at 309-756-0955 to receive updated pricing for the following products:
Vacuum Pump Oil ISO 100 |
30WT | NON DETERGENT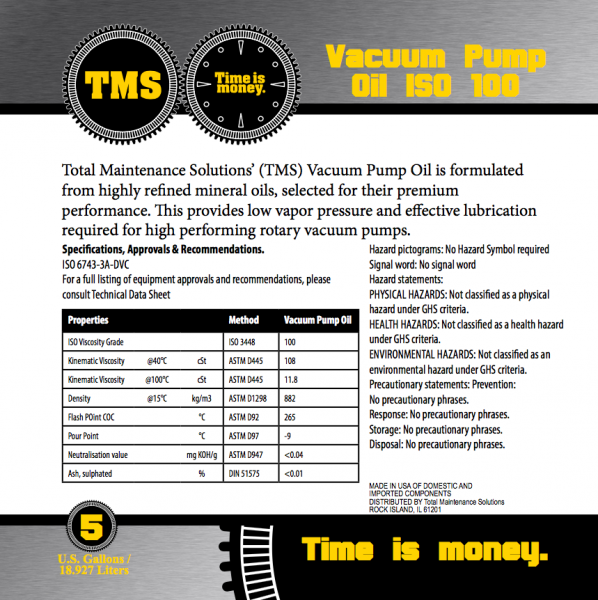 Data Sheets

Vacuum Pump Oil ISO 100 | 30WT | SYNTHETIC FOOD GRADE

Data Sheets
Call 309-756-0955 by 2pm CST and we can have an order shipped today.