While we are located in Illinois, we remain fully operational as a service provider & manufacturer for the essential food production industry nationwide.
Our team is on high alert, ready to fulfill your vacuum pump needs and help you keep America's food industry running efficiently.
Call TMS today for estimated turn around times for parts, pumps, and supplies at 309-756-0955.
Quick Turnaround & Fast Delivery w Exclusive TMS Pump Shipping Racks
Our shipping racks are fabricated in-house and built to make crating, load-in/load-out and shipping easier than ever. Call your TMS rep today to learn more!
TMS Adds Second Made-in-USA Model to OEM Vacuum Pump Line
Starting with the primary work-horse pump for the industries it serves, in 2018 TMS began providing a rotating vane RV630 vacuum pump manufactured here in the USA, built and tested in Rock Island, Illinois.
In June 2019, TMS released its second OEM edition with the TMS RL1000 Booster.
TMS took advantage of space-age technology to include innovations for this critical booster that eliminate failure for 90% of occurrences. In addition, changing the coupler element no longer requires removing the motor.
Read how TMS is making vacuum great again, and learn how TMS' innovations to the 630 mean less downtime. Learn how TMS eliminates the contamination that is 90% of the cause for booster failure.
In May 2018, TMS completed its delivery of over 40 new OEM Made-in-USA pumps to a new $300 million pork plant in Iowa.
TMS provides new and reconditioned rotary vane pumps and rotary lobe boosters, OEM warranties, quick turn around and fast delivery.
TMS is your sole source for vacuum pump and booster repair service, and complete after-sales support. Total Maintenance Solutions ensures maximum uptime and low cost of ownership throughout the life of your pumps. TMS also provides a full line of replacement parts, filters, oil and repair kits.
If you have a pump failure and do not have a spare, just call 309-756-0955 and ask for assistance with a replacement. If the size and type of pump you require is available, TMS will either bring you a pump or ship you one.
New TMS and Reconditioned Pumps, Boosters
Browse our directory of new and reconditioned pumps and booster types, with photos and CFM/HP specs. Call 309-756-0955 for availability and pricing.
TMS' Vacuum Pump Repair Service Reduces Downtime, Lowers Plant Operating Costs
TMS services Busch, Kinney, Leybold, Rietschie, Beach Russ and Tuthill brand pumps. And, Hoffman, Lamson, Spencer, Roots, Sutorbilt, MD Pneumatic and Gardner Denver blowers.
For a full list of the brands TMS provides vacuum pump repair service for please visit our Services page, here.
TMS' Vacuum Pump Repair Service Includes Online Status Photos & Real Time Pump Tracking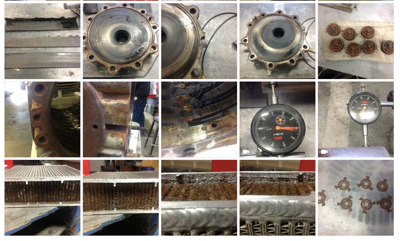 TMS provides you detailed photos at a secure Dropbox page where you can review your pump's repair requirements, visually. Additionally, TMS tracks your pump's repair or rebuild status within the shop, in real time. TMS provides its service techs and their clients updates upon demand. Read more about these service standards, here.

Strategically located in the Midwest, we maintain a wide selection of in stock pumps, systems and parts and are staffed with trained service technicians, who are ready to assist you with all of your equipment needs. Please contact us with any questions.
All content and images at this website are copyrighted by Total Maintenance Solutions and are not eligible for reuse by any third party whatsoever without express written consent. © 2015-2020 Total Maintenance Solutions